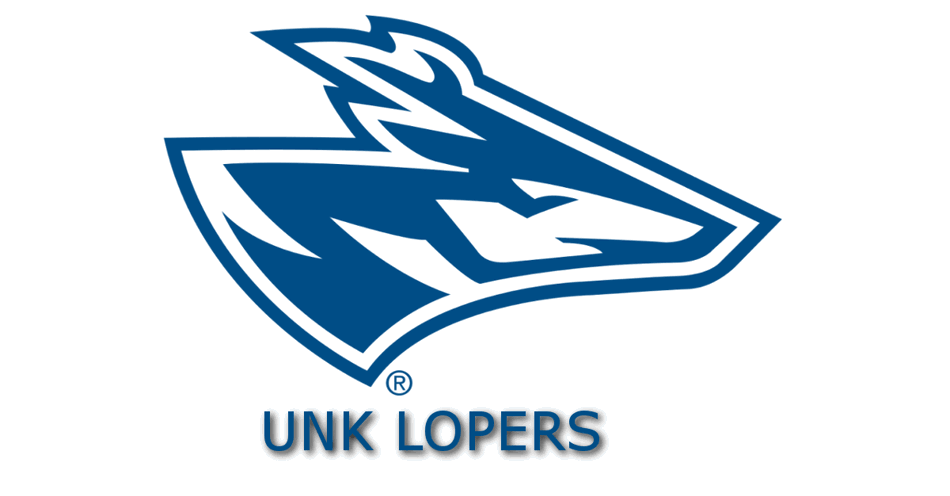 Loper Talent Pool Continues to Grow with Five Recruits
Nov 12, 2020 / UNK Athletics
Kearney, Neb. – Nebraska-Kearney head volleyball coach Rick Squiers announced today the names of five high school seniors who'll hit the courts for the Lopers in the fall of 2021.
They are outside hitter Katy Lindner (Pleasanton), defensive specialist/libero Paige Lukasiewicz (St. Paul; pronounced luka-sav-itch), setter Peyton Neff (North Platte H.S.), middle blocker Lily Novacek (Kearney H.S.; pronounced no-vah-check), and outside hitter Asha Regier (Newton, Kan.; pronounced ash-ah rah-jeer).
UNK's current 25-player roster features a stellar senior class and 10 sophomores. The NCAA Division II Presidents Council has granted an eligibility waiver (i.e. a "free year") for fall sport student-athletes this year due to the ongoing COVID pandemic.
"We could not be more excited about the class of 2021. This group is talented both on the court and in the classroom," Squiers said. "Kudos to Coach Steph Brand and staff for navigating a strange recruiting season to ultimately assemble an outstanding group."
Lindner (6-0) amassed a school-record 412 kills and hit .456 this fall to help the Bulldogs win the Class D1 state title for the first time. Part of a 33-0 senior-laden squad, she also had 65 blocks, 36 aces and leaves with school records for kills in a career (1,256) and match (24).
"Volleyball fans in Nebraska were able to see Katy's collegiate potential during the state championship match where she was nothing short of electric. She is a dynamic attacker with a huge ceiling as a point scorer for the Lopers," Squiers said. "We love that she comes from a great program just up the road because she will enter our program with a good feel for what it's all about."

A four-year letterwinner in three sports, Lindner is a two-time Kearney Hub Volleyball Player of the Year. Soon to be named all-state for a third straight year, she also helped the Bulldogs win the 2020 D1 basketball state title after finishing runner up a year earlier. Finally, Lindner was a 2018 state track qualifier as a member of two relay teams.
Lukasiewicz (5-3) set a new Class C-1 record with 2,195 career digs, besting the old mark by over 500. Also a basketball and track letterwinner, the two-time volleyball team captain was part of a St. Paul program that won four league titles and twice finished as state runners up.
"Paige comes from a great volleyball culture at St. Paul where she has anchored the serve receive and defense for one of the best programs in Nebraska," Squiers said. "She is familiar with playing under high expectations and takes on challenges enthusiastically. Her skills and determination are well-suited for the demands of playing back row in the MIAA."
Lukasiewicz tallied 454 digs, 41 assists and 34 digs this fall en route to another all-state honor. Off the volleyball court she is an all-league basketball player and a member of the school-record 4x800 relay team that finished as 2019 Class C state runners up.

Neff (5-9) guided the North Platte offense throughout her career and also served as a hitter during her sophomore season. The 2018 North Platte Telegraph Player of the Year racked up over 2,200 assists, 700 digs, 400 kills and 100 service aces along the way. This past fall Neff was at 9.6 assists per set as North Platte went 21-12 and reached the Class A state tournament.
"Peyton is a great get for UNK. Her athleticism, skill set, and competitive nature combine to create the potential for yet another decorated Loper setter," Squiers said. "She plays the game with a unique mix of volleyball IQ and a risk-taker personality. We think she is a great fit for the way we play and can't wait to watch her do big things for Loper Volleyball."
A Class A state track qualifier in the long and triple jumps, Neff hails from a family of Lopers as her father, P.D., played baseball at UNK while her mother, Pam (Sis), was on the basketball team.
A 6-0 middle, Novacek is a four-year letterwinner in volleyball, basketball and track for the Bearcats. She hit .346 this past season and led the team in kills (3.1 per set) and blocks (0.8 per set) while ranking third in service aces (26). Her efforts helped Kearney win 38 matches over the past two seasons.
"Lily is a true middle who can run all the plays required to put pressure on a defense. She has a big arm on the slide and finds a way to become available in transition offense," Squiers said. "We really like the fact that she has been well-coached and has played against outstanding competition throughout her career with the Bearcats. She has the potential to become a strong contributor at UNK."
Novacek, who recorded over 250 kills and 90 blocks as a junior, was a 2019 Class A state track medalist in the shot put.
Regier (5-9) starred at Newton High, located 30 minutes north of Wichita. She wrapped up her prep career with over 1,400 kills, 1,400 digs, 140 service aces, and 90 blocks. This past season she led Class 5A in kills (494) and hit .345 to help the Railroaders win 23 matches and reach the state tournament.
"Asha can do almost anything on the volleyball court. In addition to being pure passer and outstanding defender, she has a shot for every situation as an attacker," Squiers said. "We love the fact that Asha has grown up around the game, spent countless hours in the gym, and understands the rigors of the MIAA. She has a college-ready game that will serve her will entering the program."
Helping the Railers reach state three times in her career, Regier was a 2019 state track qualifier in the high jump. Finally she comes from a very athletic family with older sisters Lauren and Emily both members of the Pittsburg State volleyball team.
UNK's spring season is still taking shape and will roughly run from the end of February until mid-April. A schedule should be available by the end of the calendar year.